Festival incoming! Time for tips!
One of our goals at PixelPop Festival is to provide opportunities to game creators all skill levels. While many of our Exhibitors have lots of experience, we know that some will be coming into PixelPop Festival without knowing what to expect. Fear not; we're here to help! We've compiled some pro-tips from our organizational team to help make sure that you have the best experience possible as a PixelPop Exhibitor.
1. Finalize Game Tweaks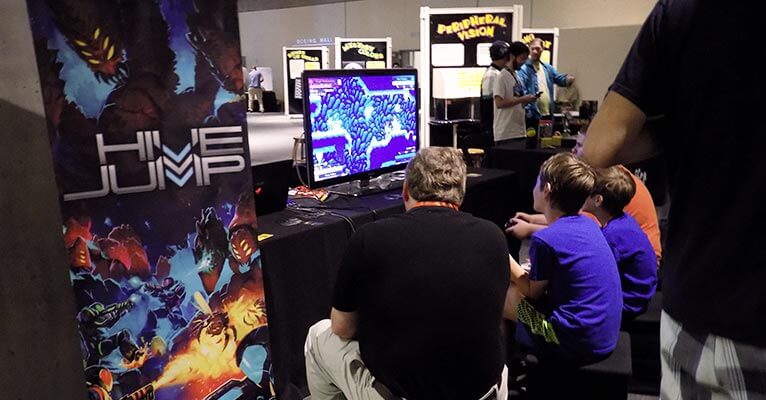 Try to avoid working up to the last minute on your Expo demo. Prioritize your tasks, and aim to have something complete well in advance of the show.
Focus on the player's demo experience. You don't need to (and in many cases, probably shouldn't) demo the whole game. Try to have what's called a "vertical slice," a completed section of the game that represents the goals of the full experience.
Do your best to eradicate game-breaking bugs, but be easy on yourself if there still are a few — players understand that games in an expo are still in development, and are generally very forgiving of obvious problems.
Even if the game isn't complete, polish the demo itself to make it feel professional. Players at an expo tend to be more excited by thoughtful visuals than by memory optimization.
Give yourself an easy way to start and reset the demo. People walk away without completing the game, and you'll find yourself resetting the game A LOT. How many steps does that take, and can you make it easier?
If you have a video game, consider adding an autoplay "attract" screen, or at least an attractive home/menu screen. Players are drawn to movement and interesting gameplay.
If you have a tabletop game, consider how you might offer a shortened demo, and a streamlined tutorial. Do you want players to playtest the ruleset? Carefully copy-edit any printed rules to avoid confusion and errors.
Regardless of game medium, have a solid estimate of how long a demo might take, and prepare your players for the time commitment.
2. Optimize Your Time and Set Your Expectations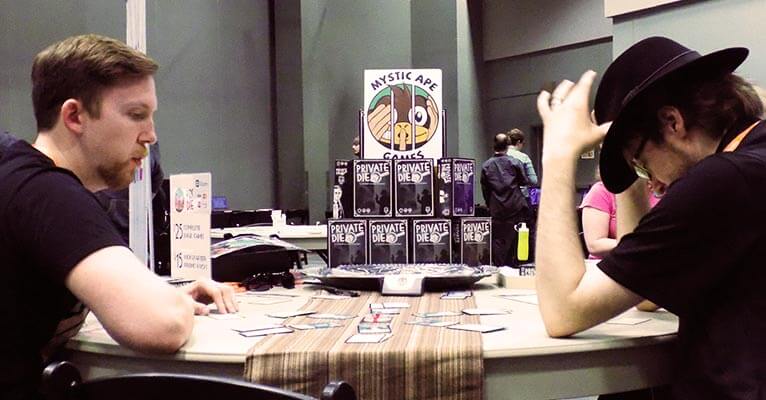 Conventions are a great way to meet other developers, get feedback on your game, and meet press. Don't expect to sell a copy of your game to every individual at the event, or even everyone who plays. While exhibiting at events is in part to promote your game, a greater part of it is building relationships with players, creators, and other industry folks.
Make an effort to engage with passing attendees or neighboring developers. If the floor seems especially slow, walk around a bit and see what everyone else is showing off!
If you feel overwhelmed, it's okay to step away for a bit. Reach out to a PixelPop volunteer or staff member to have someone watch your table while you take a break. There'll be a Guest Lounge upstairs where exhibitors can regroup away from the expo, as well as an outdoor courtyard and several lounge areas in the venue where you can take a quiet moment away.
3. Plan Your Booth Space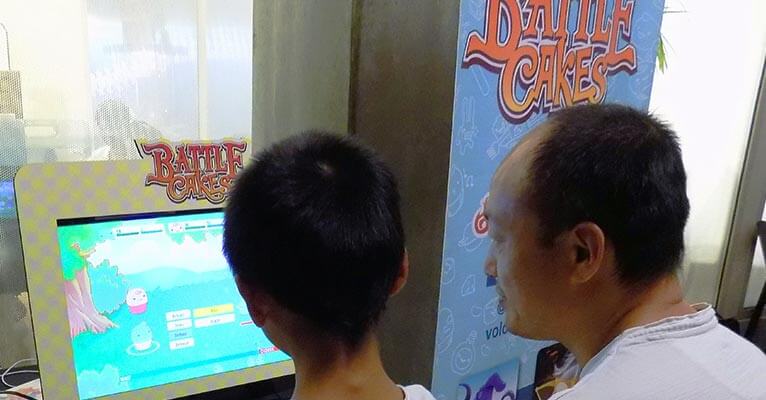 Know what size table you reserved, and start thinking about how you want to display and promote your game on it.
If you're demoing a video game, avoid using only a laptop screen to demo if you can afford it; try to have a monitor or a TV to display the game. If you have a screen to face the players, you can keep the game running on your laptop facing you—this lets you observe gameplay without having to stand ominously behind your player.
If you're demoing a tabletop game, think about how you'll lay out all of your materials to be most attractive to prospective players, while still being easy to jump directly into a demo.
Signage is really important to give attendees a taste of your game, and to help entice them to play. http://vistaprint.com and http://buildasign.com are great resources for signs and banners.
Takeaways like postcards, business cards, and buttons give players a way to remember your game after they play. This is important! We like Vistaprint.com and PrintPlace.com for printable takeaways. We also like JustButtons.org for affordable buttons.
4. Prepare Your Toolkit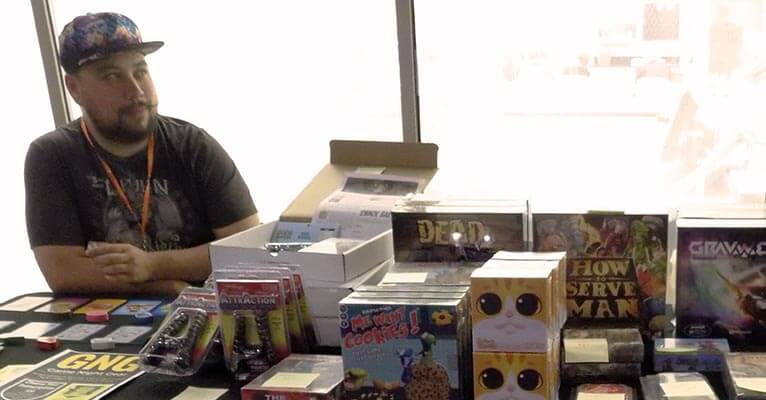 Regardless of what you're demoing, you'll want to bring a toolkit to ensure you're prepared for everything that could go wrong in your table space. Focus on what-ifs; this is one area where it's ok to over-prepare a little, because having too much in your convention toolbag will likely mean you can help out other exhibitors in a pinch.
If you're demoing a tabletop game, do you need extra components? Tape? Markers? If you're demoing a video game, bring a power strip and extension cables! Regardless of game type, think about bringing tape, markers, clips, extra components and game accessories. Also, bring antibacterial gel, because folks will sneeze and then touch your game.
We love Indie BoothCraft's "Supply Box Essentials" checklist. [pdf] (You should check out Indie BoothCraft regardless of your experience level; there are a ton of great resources on there for operating an expo booth!)
5. Prepare the Pitch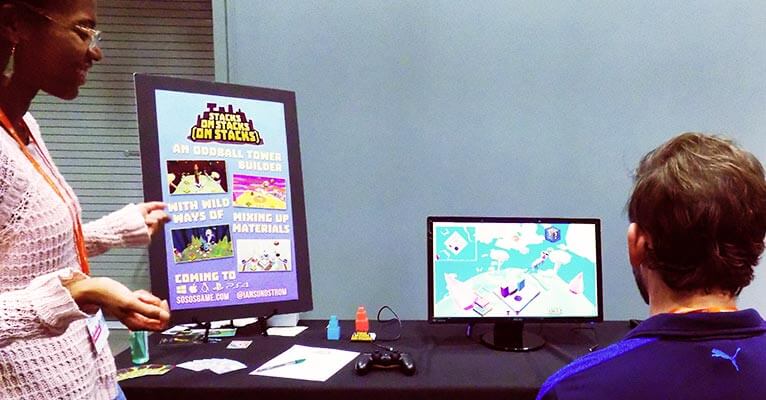 Have a concise but interesting hook to your game, followed by a 1-2 sentence pitch.
"Do you like [X] games? This is [MY GAME], a [X] game with [X unique feature] and [X unique feature]. Think [X inspiration game] meets [X inspiration game] with elements of [X inspiration game]."
Don't stay behind the table the whole time. If you're able, move around in front of the table to engage with passersby. Start with eye contact and "hi, how are you?" then move into your hook and pitch.
It's okay to feel a bit awkward! Demoing and pitching well takes a lot of practice, but it's one of the most important parts of being an Exhibitor. If you don't make an effort to connect with attendees, you'll have a hard time getting noticed among the dozens of other games on display.
6. Embrace Feedback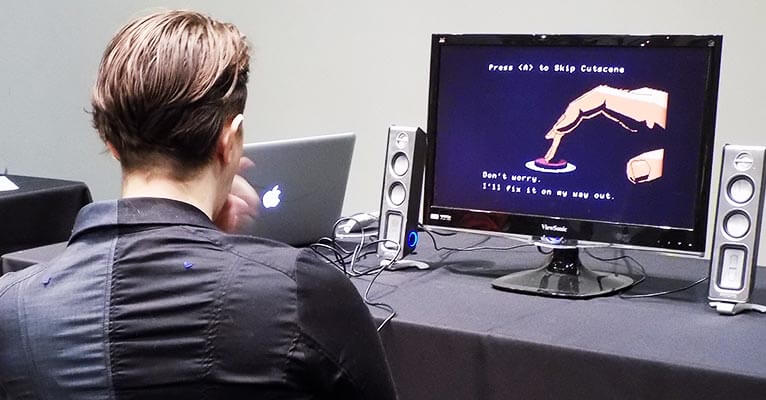 One of the most valuable things about exhibiting at an expo is the opportunity to playtest and receive feedback from a new audience. As players engage with your game, look for bugs, discrepancies, and common subjective problems. Is there a point where most people seem to get stuck, look bored, or just stop playing? Now's the time to find out!
Be open to feedback, but don't take every suggestion at face value. Try to make a list of all the feedback you receive over the weekend to see if there are common themes or underlying reasons why players may want a specific aspect changed.
Giving and receiving feedback is crucial to creating great games. Check out this great GDC 2017 talk by Adriaan DeJongh, "Playtesting: Avoiding Evil Data."
7. Have Fun!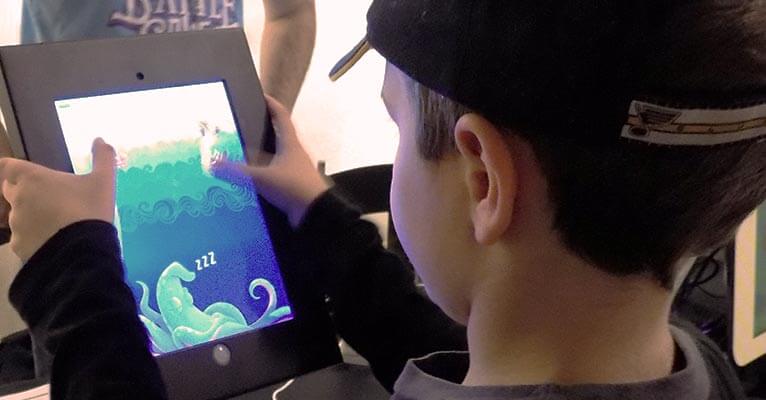 Yes, Exhibiting at a convention is a lot of work, but it's also a great opportunity to make great friends and have a good time. Take care of yourself, drink plenty of water, don't forget to eat, and participate in the after parties so that you can mingle with your fellow Exhibitors in a more casual setting!
If you have any suggestions for how we can improve our Exhibitor tips, please let us know! We want to provide the most useful, comprehensive information as possible for our participants.
-Team PixelPop